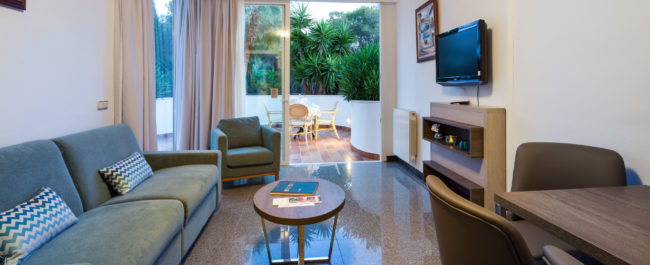 Boutique hotel in Santa Eulalia: S'Argamassa Palace
Today is the last night of this season. Arriving at the end of October, we close doors after an exciting 2018, doing what we like and passionate about the most boutique style. And being a boutique hotel means offering the best moments to our customers. It means having something special in every corner. It means making each stay special from the first moment.
Boutique hotel on the outside, boutique hotel on the inside
The S'argamassa Palace embodies the essence of a boutique hotel. It is small, familiar, luxurious and unique. In fact, it does not belong to any hotel chain thus ensuring a personalized treatment. It is also very quiet as well as the common areas of lounge, pool, and restaurant as in each of the rooms.
All rooms face the pool and none towards the street. In this way, the only thing heard in the rooms are the crickets at night and the birds during the day. To make it better, each suite has its own balcony or terrace. That detail turns them into a private space to enjoy the views of the pine forests, the gardens, the pool, and the sea.
I had not mentioned that all the rooms are suites. Each one is different from the other according to its position in the building. And they are all very spacious! We want our guests to feel at home or even better, so small rooms do not go with us. The sizes range from 35sqm to 60sqm.
There are few hotels in Ibiza with these characteristics. It is increasingly difficult to find a quiet, familiar hotel that does not attract attention even if its presence is noticed. With these qualities, the S'Argamassa Palace is a small boutique hotel.
In the quietest area of Ibiza
If we were to draw a horizontal line along the equator of Ibiza, we would have separated the quiet part of the noisiest part. The north of the island is the quiet part; the south is the noisy part. In that first half is where the Suite Hotel S'Argamassa Palace is located.
The northern zone is also the best preserved. The beaches are more virgin than in other corners of the island, have more colors and are less visited. For families, they are the favorite beaches, just as they are for any lover of nature. It is beautiful to see how the location makes the S'Argamassa Palace an oasis. For us, a "boutique hotel oasis"!
A thousand eyes see more than two, right? That's why we recommend that our guests tell you their impressions. You can read reviews here or here.
And if you still have doubts, you can contact us directly through the mail: reservas@sargamassa-palace.com or by phone +34 971330271. We hope to see you soon here and that you can take your own boutique hotel experience with you!