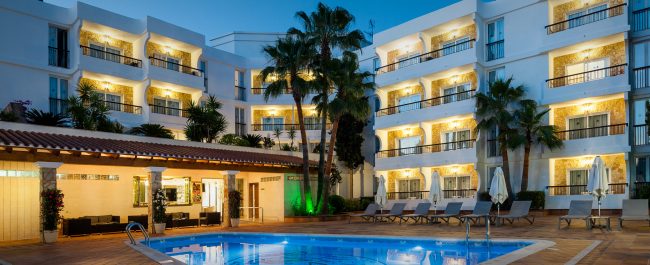 A quiet hotel with 24 rooms
Between pines and an incomparable peaceful environment is our Suite Hotel S'Argamassa Palace. Whoever has visited it knows that among the many of its virtues, the calm that is breathed in this hotel is the most outstanding. It is a quiet hotel and, in addition, our usual holiday destination.
We were immediately enchanted by this harmony when we discovered it and for this reason, we continue visiting this hotel every year.
A quiet hotel, an oasis of calm
24 rooms make up this quiet and small boutique hotel located in Santa Eulalia. From the Junior Suite to the Grand Suite, each one promises a few comfortable days, if not more. A bedroom space separated from the living room offers the breadth for an ideal family holiday or some nice and romantic days with the couple.
In addition, a terrace or balcony round every stay, with beautiful views of the pool, gardens, and pines. The song of the birds at sunset is a beautiful melody that says goodbye to every day in an incomparable way.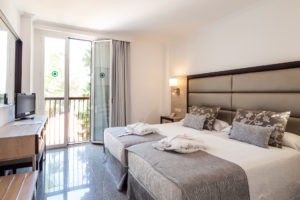 All the furniture in the rooms was renovated just a year ago. We loved the new touch from the very beginning!
In the common areas, you will find all kinds of amenities to enjoy this calm: armchairs, sofas, hammocks … Our favorite moments are the sunsets on the pool terrace. The bar staff is more than friendly, and, what about the cocktails they prepare! They are the perfect accompaniment for the moment.
In the middle of the quiet Ibiza
As it could not be different, according to this quiet Ibiza Hotel, the surrounding areas are also considered the quietest part of the island.
This small hotel is also a key point to discover Ibiza by car.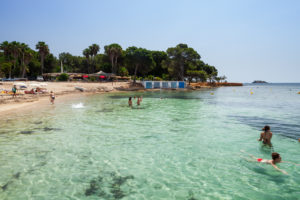 Family beach Cala Pada
There is no need to go far to find the beauty of this Mediterranean oasis. Just 300m from the Hotel is Cala Pada, a small beach with a family atmosphere. Other beautiful family beaches such as Cala Nova or Cala Martina are just 10 minutes away by car.
A holiday like home
The Suite Hotel S'Argamassa Palace is our usual destination during our holidays. We like to call it our second home because of the family atmosphere that exists among the whole team. Over the years we have also become part of this charming family.
Everyone strives to make every detail ideal and to offer an excellent service. With all the attentions, I would dare to say that in this quiet hotel in Ibiza you are not only staying like at home but even better.
H. A. Cobin