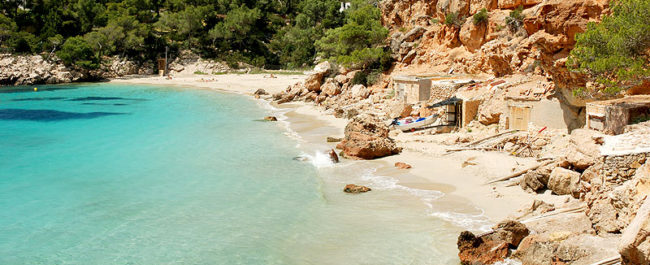 The crystal clear sea of Ibiza
If there is something special about the sea of Ibiza, it is undoubtedly its crystalline waters. It is a treasure that both residents and tourists value. From the northernmost tip to the southernmost, the crystal clear water of the Ibiza Sea embraces the entire coast of the Greater Pitiüsa.
The sea of Ibiza: the treasure of all
The reason why the water is so transparent in our islands is a plant: the posidonia.
The life of the posidonia goes back to millions of years ago and in the Pitiüsas is the largest of its kind. Its leaves cradle great part of the two sister islands, Ibiza and Formentera, being thicker between both and with a kilometric length. You could say that the posidonia is to the sea, what the Amazon to the atmosphere.
Thanks to its filtering properties, the sea of Ibiza is so crystalline. The quality of the water is exceptional, and that is seen at first sight on the beautiful beaches.
Active tourism and aquatic activities
Of course, water activities are an excellent way to enjoy the sea of Ibiza. The offer ranges from activities on the surface such as sailing, kayaking or paddle surfing, to underwater activities such as diving or snorkeling. Near our S'Argamassa Palace, there are different points from which to enjoy one way and another of the sea of Ibiza.
For the more adventurous, the S'Argamassa Palace team can offer different options. Whether it's traveling steep coasts with incredible views of the sea or enjoying the warm sand on a dream beach. The ways of enjoying the sea are very personal.
In this sense, the team of S'Argamassa Palace is the best ally to know the treasures of Ibiza. One can help from a tourist guide and let the advice of the hotel staff round out each experience.
H. A. Cobin