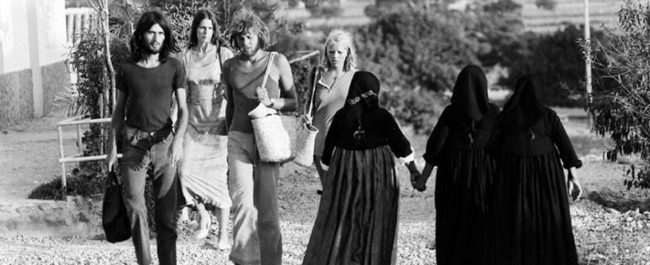 The hippies of Ibiza
The hippies of Ibiza have become a symbol of the white island. More than that, they are part of its history and culture. In this post, we make a brief review of the history of the hippies of Ibiza and their current influence. Let's go!
The hippies of Ibiza were young educated people
The hippy movement began in Ibiza in the 60s. Young people from all parts of Europe and North America were fleeing the situation in their countries after the Second World War. Discontent with the society and politics of their countries, they looked for quiet places, far from being overcrowded. These young people were children of wealthy families, scholars, and cults that sought a cosmopolitan and bohemian atmosphere.
Driven by this feeling of indignation and rebellion, more and more hippies began to arrive on the island. The influx of people from all over the globe caught the attention of great artists of the time. It was as well as Ibiza began to gain the reputation and be known all over the world.
The Ibizan people lived with them kindly and were fascinated by those colorful clothes they wore. In addition, another feature that attracted them to hippies was their beauty. They considered them very handsome and beautiful. The nickname that was earned by the local people is "peluts" (hairy) for the long manes they wore.
The hippy markets of Ibiza
In those 60s, hippies congregated to sell crafts. This was how in Punta Arabí first and then in Las Dalias, the custom of the markets that we now know began to take shape.
However, the markets now have little to do with those of before. However, you can still find certain traits that remind you of your beginnings. Certain artisans and stalls have not lost their essence and visiting them seem a journey in time.
The visit to one or several hippie markets is mandatory during the stay in Ibiza. Every tourist guide recommends it and, to be honest, whoever has never seen it will be speechless. During the days of the market, not only artisan stalls are usually prepared, but also live music, performances, meals, drinks …
Finally and for your information, the two most important hippie markets on the island, Las Dalias, and Punta Arabí are only 7km and 3km from S'Argamassa Palace. You could say that the hotel is right in the middle of what was a cultural revolution almost 60 years ago.
H. A. Cobin