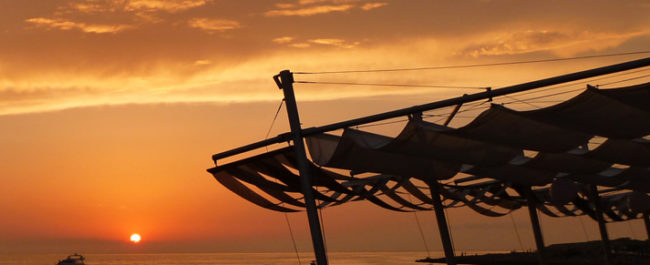 Couples holidays to Ibiza during September
Each getaway has its precise moment, that is no secret. The months that now await us also have their perfect audience: couples. September is characterized by being calm after the summer storm and, therefore, ideal for couples holidays to Ibiza and enjoying a particularly quiet holiday.
Good months for couples holidays to Ibiza
After the summer getaways with the children, is now the time for the adults. The start of school makes family trips difficult but that does not mean that parents can't have a few days off. During these months, offers are launched in romantic packs, excursions and different service pack ideal for couples to enjoy.
Temperatures go down, the water is still warm and the sunsets take on color. The atmosphere becomes romantic to infinity to celebrate special occasions that are only a matter of two. How about a sunset from a catamaran? Or maybe have a romantic dinner by the sea? September has that something special that gives magic to all the plans that one proposes.
Couple holidays to Ibiza can be very entertaining
We just commented on the romantic plans but for the lovers of the action, there are also options. Different blocks from the island offer horseback riding through countryside or mountains. In addition, trekking excursions are offered from medium level onwards (not suitable for children) in which you can see the spectacular landscape.
Sea lovers can also enjoy all kinds of kayaking tours. They are also good months for underwater activities. Both bottle diving and snorkeling are ideal options because the sea is especially clean during these months.
After reading, who said couples holidays to Ibiza was not entertaining?
Kids are still welcome!
September is a good month for couples holidays to Ibiza but it does not mean they are not for traveling as a family. We know that there are times that although romanticism is a matter of two, it is not feasible to leave those who do three and four alone at home. No problem! At S'Argamassa Palace, kids are always welcome and also enjoy special offers during these months.
On our website, you can see all the offers for 2, 3 or 4 people. We have different packs, from romantic to energetic, as well as discounts for families.
And, as always, don't leave any questions left and ask us!
H. A. Cobin