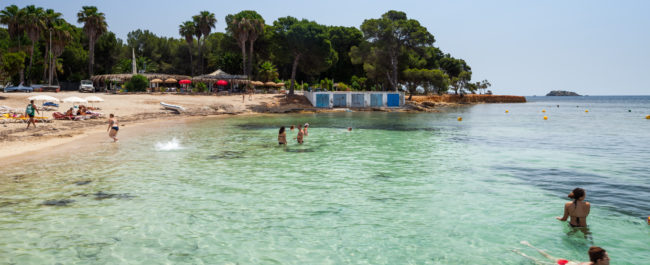 Cala Pada, just 2 minutes from S'Argamassa Palace
There are many charms that could be described of the Suite Hotel S'Argamassa Palace. Without a doubt, one of them is the proximity to the sea. Within a radius of less than 1 km there are three quiet beaches: Cala Pada, S'Argamassa and Cala Martina. In this post we explain a little more about the nearest, Cala Pada.
Cala Pada, family beach in the middle of nature
"On the left and on the left" are the most accurate indications to get from the S'Argamassa Palace to the beach of Cala Pada. Following a pedestrian path, you reach the beach in a matter of 3 minutes.
Without a doubt, Cala Pada stands out for being very well preserved. It is a cove surrounded by pine trees and red earth where the sea is always calm. It is very appreciated by families to be calm and easy to watch. In addition, it has everything a family beach has to have: restaurants, shallowness and sand. Water sports are also offered for the more adventurous.
It is a beach estimated by both local people and tourists. The gastronomy of the restaurants attracts many Ibicencos for fresh fish and rice dishes.
In the small dock the ferry connects every day Cala Pada with Es Canar and Santa Eulalia. It is possible to get to Formentera by ferry from this beach, ideal for those who do not want to drive first to Ibiza town. Following the coastline of Cala Pada you can also reach Santa Eulalia on foot. The walk is pleasant and lasts about 40 minutes.
S'Argamassa and Cala Martina
In the opposite direction to Cala Pada are S'Argamassa and Cala Martina. The first is small and known for the water sports that are offered there. In Cala Martina one can spend the whole day and eat fresh fish or traditional rice at any of the restaurants.
To get to the Hippy Market of Punta Arabí on foot, you have to go through these two beaches. In a matter of 20 minutes on foot, you reach the S'Argamassa Palace from the flea market. The walk is a very good alternative to overcrowding cars in Punta Arabí during that day.