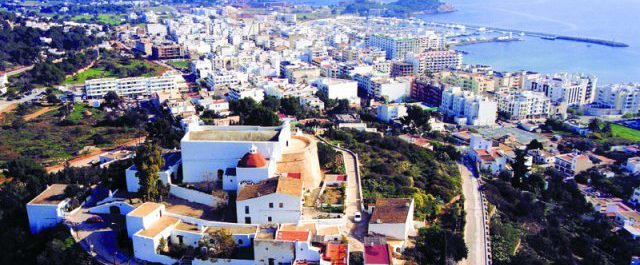 The charm of Santa Eulalia del Río
The closest town center to S'Argamassa Palace is the town of Santa Eulalia. A marina, a walk to the beach, restaurants, bars, shops and much culture make it attractive for all types of interests. In this post, I will tell you what to see in Santa Eulalia from our personal experience after years visiting the area.
What to see in Santa Eulalia: main points
The point that stands out most, and not only for its height, is the Puig de Missa. The church built in the sixteenth century overlooks Santa Eulalia from the heights and is a precious building. It is the perfect example of the architecture of Ibiza, with a large porch made of beams of sabina and thick walls.
In addition, the short walk there will take you to two viewpoints. From one of them, you will see Santa Eulalia in full and from the other a beautiful sunset.
The promenade from which you get from point to point of the village is another point to see in Santa Eulalia. At one end is the marina and in another the mouth of the river. There are bars, restaurants, ice cream shops and shops within 2 kilometers.
The marina, as well as beautiful yachts of all kinds, is also the ideal place to enjoy the nightlife of Santa Eulalia.
The walk to S'Alamera, which crosses the promenade at the height of the beach is a picturesque rambla. There are statues of podencos, the typical dog of Ibiza, and the famous fameliar. About this last one, I will tell you more in the next section.
Secret recommendations to see in Santa Eulalia
Once in Puig de Missa, I recommend stopping at the Ethnographic Museum. It is a traditional house rehabilitated in which everything related to the culture of Ibiza is exposed. There you can appreciate the traditional architecture, as well as the traditional clothing and customs.
A few lines ago I talked about the fameliar. The myth that surrounds its figure is born underneath the old bridge of Santa Eulalia, which is reached following the walk in a southerly direction. There a second stretch of paved road leads to the old bridge and along the only river of the Balearics.
Hence the affectionate motto and second name of Santa Eulalia: Villa del Río (The town of the River).
Finally, if you follow the walk in a northerly direction and bordering the coast you will reach the old lookout point. If we recommended a sunset in Puig de Missa, this is the ideal spot to see a sunrise.
The recommendations would not stop and I'm sure every visitor to the Villa del Rio could contribute theirs. I will be delighted to receive your personal experiences about what to see in Santa Eulalia in the comments or through the networks of S'Argamassa Palace.
H. A. Cobin