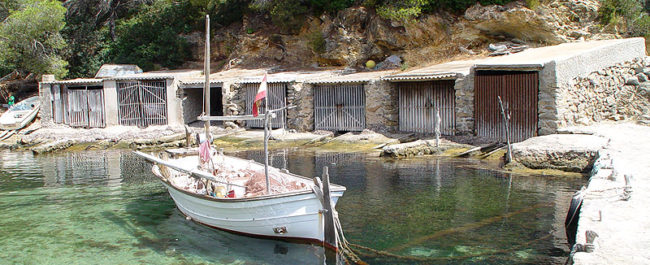 Cycling Routes in Ibiza near S'Argamassa Palace
A complete holiday is for many people synonymous with well-being and health. Because of this, and thanks to the excellent location, S'Argamassa Palace has a whole repertoire of activities to recommend to take care of body and mind. Let's see today the cycling routes in Ibiza offered by the town of Santa Eulalia.
The routes that I detail below can be combined since some of them share some of the points that they cross. Best of all: the routes are signposted, which facilitates their tracking.
Cycling routes in Ibiza starting at Suite Hotel S'Argamassa Palace
After renting a bicycle at the hotel reception, the adventure should not be expected any longer.
Route 3 is a good start, as it connects S'Argamassa, Es Canar, San Carlos, Las Dalias and Cala Pada, in this order. It is a circular route by asphalt ideal to heat the motors by its low level of difficulty. It consists of 13 km that can be done perfectly in an hour and a half.
Some of the points of interest that you will find along the way are the Natural Fountain of Peralta and the two Hippy Markets.
Another way to visit San Carlos is to make the route 4. This one arrives at San Carlos by the way that communicates Cala Pada with Can Curreu. The return is done near Morna, crossing the beautiful Ibizan countryside on little traveled roads.
The cycling route is circular and asphalt, with about 14 km in length.
Once known San Carlos by its two sides, the route 5 crosses the beaches of this locality in a section of 31 km. Between paths of land and asphalt, the route passes through Es Canar, Cala Nova, Cala Llenya, Cala Mastella, Cala Boix, Pou des Lleó, Figueral, Aguas Blancas and Cala Pada.
Going this route, you will find different restaurants and bars. Ideal for stopping and enjoying the views of some of the coves!
Cycling routes in Ibiza starting a few km from Suite Hotel S'Argamassa Palace
For those who also want to know the area of Santa Eulalia by bicycle, its route will begin 3 km from the S'Argamassa Palace.
With the starting point in Santa Eulalia, Route 2 follows the main road to Es Figueral. Once there, the return takes you on the road to San Lorenzo.  The detour in the direction of Atzaró makes continue until you reach Santa Eulalia again.
This belongs to the asphalted cycling routes, with a length of 26 km, to be made in about 2 hours.
Finally, route 7 combines parts of those mentioned above. Starting at Villa del Río, the road is parallel to the main road of San Carlos. It is an asphalted route of 18 km that goes cross country by Morna and Atzaró.
The municipality of Santa Eulalia offers many possibilities to enjoy a holiday full of well-being. For this, do not miss a lodging that rounds off your days of disconnection. 😉
H. A. Cobin